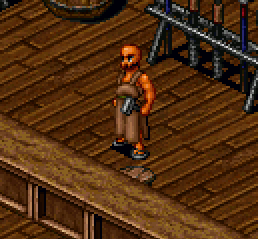 Spare a Stick is a unique quest for new players. You are tasked by the Mileth Blacksmith Callough to gather branches to craft a stick and wooden shield. Unlike other early quests, completing this quest has a rare chance of getting a random legend mark. The rewards for this quest are a Wooden Stick, Wooden Shield, and 1,500 Experience. On the rare occasions that you get the legend mark, you will instead recieve an Oak Stick, instead of the Wooden Stick.

Procedure
Talk to Callough in the Mileth weapon shop. He will send you out to collect 6 branches. You can get these by walking around the two trees east of the Inn. The branches will be added to your inventory as you walk about. Return to Callough for your reward, and keep your fingers crossed that you'll get the coveted legend mark.
Quest Text
Callough:
What's that? You need a stick? A hard path of dust you've been walkin', as far as my eyes can see. So I'll make you a fine stick and a Wooden Shield, if you'll but do some good work.
If you'll gather some branches from down south of the inn, or even better, from the East Woodlands, I'll have you a fine stick -- and a Wooden Shield to boot.

Where can I find branches?
Branches? From trees. Well not all are good enough for what I need. Go out and find some lying abouts the inn. The inn is so very close by. Just be out this road and over that statue. The nice lass with the looking glass, all dressed in blue, is the inn keeper. Well, south of her shop is a bunch of trees. Plenty of good branches there.
Walk out of this shop here and walk east past the Statue of Temuairan gods, and you're bound to see the clump of trees I mean. When you do, walk around the trees until you see some sturdy branches.
There's also several in the first road of the East Woodland. To find that, walk on the road outside my shop as far as you can to the east, across two bridges and out the gates of Mileth. Best to ask a fellow Aisling to guide you there. If you do go, only stay at the entrance. DON'T go down any of the paths!

I'll gather them now
Thank ya. Run along and get six branches. I'll take the best one and craft your bludgeoning wood. Don't be too long.

I have those branches, here
You remind me of my own little child. I thank you so much.