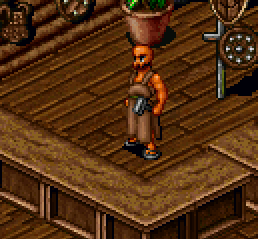 Torrance is Mileth's armorer and has been providing young Aislings with sound, affordable gear for many deochs. His shop is located in central Mileth, just Northwest of the Mileth Altar . He shares his forge with Callough , the blacksmith.
Arms Lecture
Torrance has an encyclopedic knowledge of all sorts of weapons and armor and is more than happy to share his Arms Lecture with any who are curious.
Smith Ring
Rogues may use Torrance's facilities to try their hands at smithing rings.
Sells and Buys
Sells
Buys

Wooden Shield -- 100 coins
Leather Shield -- 750 coins
Bronze Shield -- 3,750 coins
Leather Gautlet -- 2,000 coins
Boots -- 1,000 coins
Cured Boots -- 5,000 coins
Grey Boots -- 10,000 coins
Shagreen Boots -- 10,000 coins
Coral Earrings -- 8,000 coins
Beryl Earrings -- 3,000 coins
Bone Necklace -- 1,500 coins
Amber Necklace -- 1,600 coins
Ruby Ring -- 20,000 coins
Amethyst Ring -- 50,000 coins

Wooden Shield -- 50 coins
Leather Shield -- 375 coins
Bronze Shield -- 1,875 coins
Leather Gautlet -- 1,000 coins
Boots -- 500 coins
Cured Boots -- 2,500 coins
Grey Boots -- 5,000 coins
Shagreen Boots -- 5,000 coins
Coral Earrings -- 4,000 coins
Beryl Earrings -- 1,500 coins
Bone Necklace -- 750 coins
Amber Necklace -- 800 coins
Ruby Ring -- 10,000 coins
Amethyst Ring -- 25,000 coins